Yoga/Movement Bio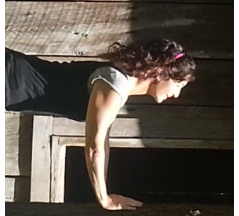 Heidi Pollyea is a dedicated and caring Yoga instructor with extensive teaching and performance experience in dance and music so you will find her classes rich with these influences.
As a lifelong believer in personal growth, mind/body healing and positive energy exchange, Heidi is known for the warmth, encouragement and personal attention she shows her students. She enjoys working with all age groups and body types offering traditional Hatha and Vinyasa Yoga as well as a high energy, groove oriented yoga/dance/core strengthening class called Yoga Moves & Dance Grooves. If one is looking for a more meditative experience, Heidi also teaches a class featuring gentle and restorative class called Slow Flow Yoga & Stretch.
Clients can choose the class style they prefer or mix and match among them. In any case, all are sure to float out to the rest of their day feeling strong and stretched, peaceful and refreshed.
Heidi understands from a personal standpoint how movement can heal the body, mind and spirit. Her mission is to help her students listen to their bodies and grow in their practice with great enjoyment along the way.
Please contact Heidi to find out her current class times and locations or to request a private session.